HOME DECOR & LIFESTYLE PRODUCTS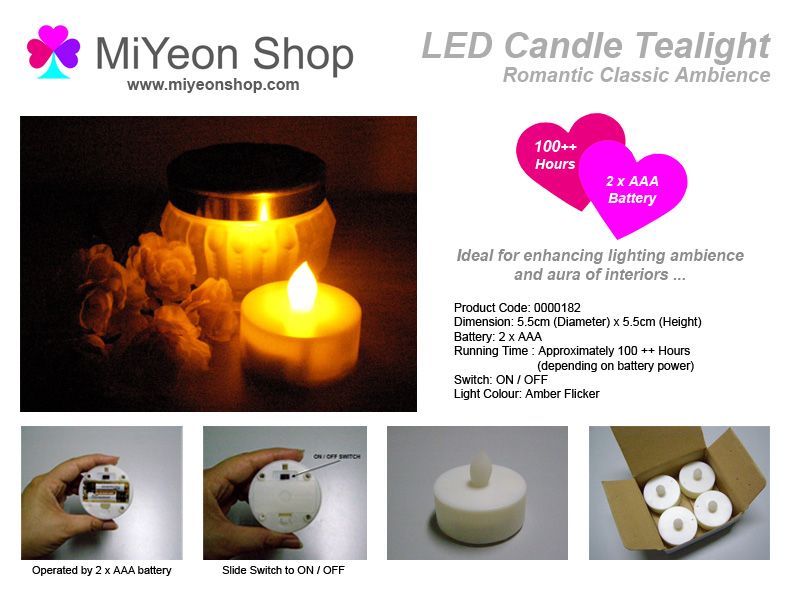 This Item is NOT Eligible for Free Shipping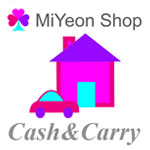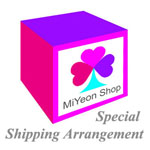 LED Candle Tealight
Romantic Classic Ambience

Product Code: 0000182
Dimension: 5.5cm (Diameter) x 5.5cm (Height)
Battery: 2 x AAA
Running Time: Approximately 100++ Hours (depending on battery power)
Switch: ON / OFF
Light Color: Amber Flicker


Promotion Price (13 April 2015 to 31 December 2015)
RM28 per box (4 unit of LED Candle Tealight)

Normal Price : RM35 per box (4 unit of LED Candle Tealight)


For more information, kindly contact us by phone at +6-016-9828918
or send us an email enquiry to info@mynworld.com

The price stated is only for purchase by Cash&Carry from our collection center in Bangsar - Kuala Lumpur, kindly contact us to arrange for an appointment.

Customers who wish to receive the item by Poslaju / Express Mail Service (EMS)
will have to pay additional shipping charges as indicated below for Special Shipping Arrangement :


PosLaju Shipping Charges Within Malaysia
RM10 (1 - 2 box)








Description

"Imagine the romance of a candle light dinner, the relaxing comfort of a spa and festive mood of lights ...
the ambience and aura would be incomplete without a candle light." - MYN World


LED Candle Tealight are ideal for creating wonderful decoration ideas for special events and stylish interior design concepts. The amber flicker of LED Candle Tealight creates a wonderful warm and romantic classic ambience which is lovely for enhancing the lighting aura of the dreamy occasion. This range of LED Candle Tealight that is operated by 2 x AAA Battery with a running time of approximately 100++ hours. It's feature of "No Flame, No Fume & No Wax Mess" is ideal for creating various contemporary decoration ideas :


Floral Arrangment & Centerpiece
Wedding Decoration
Romantic Candle Light Dinner Decor
Birthday & Anniversary Display
Restaurant, Cafe & Tea House Decoration
Club & Bar Aura Lighting
Hotel & Resort Decorative Enhancement
Beauty & Spa Ambience Lighting
Home & Room Relaxation Lighting
Event & Product Showcase Display
Fashion Shows & Product Launching
Festive Light Decoration
Decorative Lantern & Lamp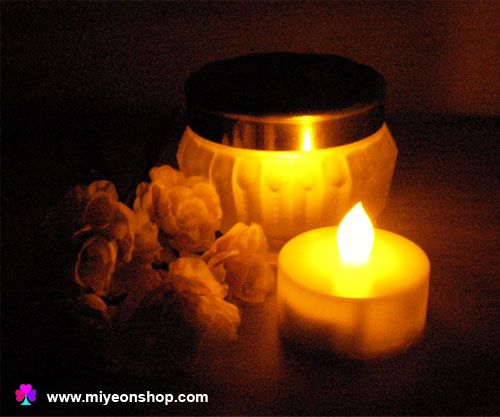 LED Candle Tealight decoration idea with floral arrangement and classic jar.
LED Candle Tealight amber flicker lighting.

LED Candle Tealight which is operated by 2xAAA Battery with Slide Switch to ON/OFF
and Running Time of approximately 100++ Hours (depending on battery power).




❤❤❤ MiYeon Shop Thank You ❤❤❤